Many of the pecan seedling trees in the field were damaged by what appears to be the work of June beetles.
When inspecting the damaged trees, no culprits were found on the leaves. That seems to be the nature of June beetles – hiding during the daylight hours and partying at night. There are good descriptions on the Northern Pecan blog.
The leaflets on some of the trees were completely destroyed – leaving only the stems of the leaves – see the following two pictures.
A second type of bug damage occurs where the  attack location starts at the tip of the growing shoot. Adjacent leaves are glued together into a mass where a worm feeds inside – see the following picture.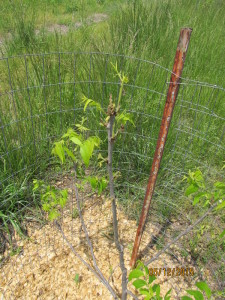 With other bugs gnawing on the leaves it amazing how the pecan trees keep trying to come back as the following picture shows.