Last fall I had about 50 seedling trees in pots which had grown from seed sprouted in the two previous Springs, and, they needed to be protected from the bitter cold temperatures during the coming winter. Some people move the pots into a cool basement for the Winter. I decided to build an outdoor fort using straw bales and place the pots in it. Then for further protection I covered the potted trees with a mixture of leaves, straw, and grass clippings as you can see in first picture below. The second picture shows the fort this Spring after it had settled somewhat during the Winter.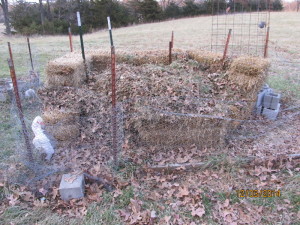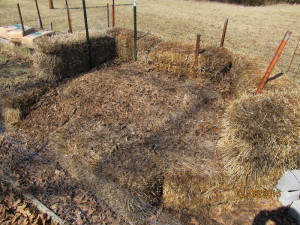 In mid-March of this year it seemed that the really cold weather was in the past and so I removed the padding from the fort as shown in the third picture. The trees in the smaller one gallon pots were sprouted from seed in May, 2014, and the trees in the larger three gallon pots were sprouted in May, 2013.  The square one gallon pots on the left contain Chinese chestnut trees.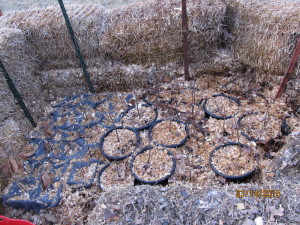 Assuming the trees survived the Winter without major damage they can now be transplanted into the field anytime during the next seven or so months. One advantage of growing seedling trees in pots is that they can be transplanted into the field in Spring, Summer, or Fall. Bare root trees, on the other hand, would need to be planted out into the field during Springtime before the trees wake up and start growing leaves again.
Another advantage is the ease of watering. During the Summer months the young  trees need lots of water to survive the hot weather. When the potted trees are concentrated together in one small area it is relatively easy to water them. Then they can be planted out into a field in the Fall when they require less water . The trees still need some water during the Winter months but normal rainfall usually suffices. It is recommended that the trees newly planted into the field be watered weekly during the first couple of Summers if rain is not sufficient. My back reminds me of my age after a day of carrying five gallon buckets of water around and watering field trees.
The series of pictures below show the potted trees after they began to leaf out during April through mid May when the leaves hide the pots under them.  The Chinese chestnut trees woke up earlier than the pecan trees.  But, whether pecans or chestnuts, they do not all come alive at the same time as their kin – the variation can be a week or two.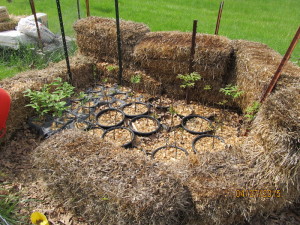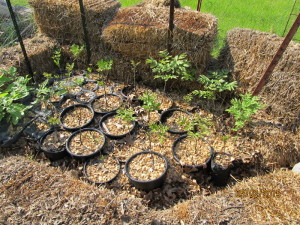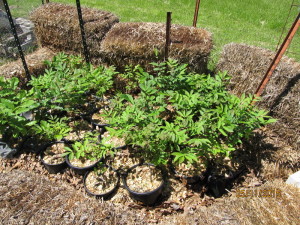 The next step is to move the potted trees out of the bed onto a raised stand where the roots will be air pruned  –  a "Coming Attraction" to this blog will explain more .